What's Up – September 23, 2019
Welcome to What's Up, your weekly update on all the latest news, game updates and more in Gears 5 and beyond.
Here's What's Up in Gears this week:
Division Rewards Week is almost here!
New Escape Skills coming for Lahni, Mac and Keegan
Live Update released today
9 new Cards added to Supply
Updates on ongoing Service Work
Get ready to fight for those leaderboard placements, as this week is a Division Rewards Week!
While most weeks contain bonus XP, every 2-3 weeks is a Division Reward Week with weapon skins up for grabs.
Based on your placement within Divisions, you'll received themed weapon skins for your Division and all those below it (for example, Gold Tier placements will earn the Bronze, Silver and Gold skins for the weapon of the week). This week's weapon for Division Reward Week is the Breaker Mace!
Remember, Divisions are about placing and holding your position rather than high watermark, so battle for your position throughout this week. Division Placement Rewards are awarded at the end of the week on Tuesday 1st October at 10am PT.
As part of our continuing support to evolve the meta of our PVE modes, new Skill Cards are coming for Mac, Keegan, and Lahni for FREE as part of our next major title update planned for early October!
These Skill Cards provide strong new bonuses when playing in the Venom for Keegan and Lahni, plus an additional Venom-based option for Mac. If you like to live dangerously, builds with these Cards will benefit you greatly – but only if you can survive on a knife-edge.
Here's a list of the upcoming Skills with their Level 1 Card values listed below:
Lahni
Venom Resistance (Rare, Level 11): All damage taken is reduced by 10% while in Venom
Venom Blade (Epic, Level 15): Melee damage in Venom causes enemies to bleed for 10% of damage dealt
Keegan
Venom Explosive Resupply (Rare, Level 11): Resupply recharges explosive weapons while in Venom
Venom Boost (Epic, Level 14): Kills inside the venom reduce the cooldown of Resupply by 20s
Mac
Venom Resistance (Rare, Level 12): All damage taken is reduced by 10% while in Venom
Each new Skill Card will be added to the Character Progression path for each Character at the listed levels.
If you have already passed the level requirements for the Skill Cards, we will be retroactively rolling out these new Skill Cards to eligible players within 48 hours of our Title Update releasing.
Over the past week, we have identified an issue that causes negative times submitted in Escape to improperly log on the Escape leaderboards. While we attempted to resolve this server-side, rectifying this issue, unfortunately, requires a Title Update.
This has major implications for Escape's competitive leaderboard placing, as the best times submitted by players will not always be properly counted on the leaderboards. In order to protect the integrity of our upcoming Escape Hives, we have postponed a new Escape Hive arrival until a deployment to resolve this issue has been released.
Thank you for your patience as we work to get this fixed as soon as possible.
Supply Drops are another way to earn rewards in Gears 5, dropping you content from the Supply Pool every time you fill your Supply meter just by playing the game!
Here's this week's drop of Supply content arriving Tuesday at 10 am PT:
Weapon Skin: Relaxed (Boltok)
Execution: T-Ball (Enforcer)
Bloodspray: UIR
Bloodspray: Devil
Mark: Chicken
Mark: Gear Crosshair
Banner: Bunker
Shortly after What's Up goes live, we'll be releasing a small Live Update for Versus Multiplayer to refine the Guardian experience and make small gameplay improvements to a couple of maps.
Vasgar
Helicopter Weapon Spawn Update: Frags / Incendiary
Tank Weapon Spawn Update: Hammerburst / Retro Lancer
Training Grounds
Extra spawn points added to King of the Hill
Guardian
Spawn Protection: 2 Seconds (was 3)
In case you missed it, we also released a Live Update on Friday to update Execution settings and improvements to our Matchmaking System. Find Update Notes here.
This week's Weekly Store Items include a new Execution for the Boltok, a new Expression, and, due to popular demand, another week to get Delivery Driver Mac!
Weekly Store Rotation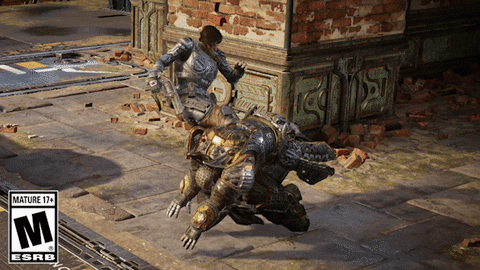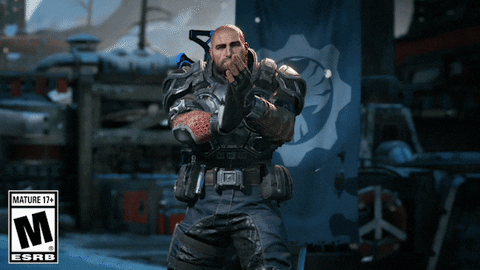 Delivery Driver Mac – 1000 Iron
Rapid Fire Boltok Execution – 800 Iron
Slow Clap Expression – 700 Iron
Retro Wave Lancer – 400 Iron
Deal With It Mark – 100 Iron
Don't forget, next Tuesday will see a brand new collection of content available in the store while this week's collection is vaulted.
Esports Storefront Updates
Continue building your Chrome Steel Weapon Skin set with our latest Esports Store update!
Chrome Steel Power Weapon Set (Boomshot, Dropshot, Breaker, Overkill) – 1000 Iron
Chrome Steel Gnasher – 500 Iron
Chrome Steel Boltok – 500 Iron
Our Online services team is continuing to work on a number of improvements and fixes for Gears 5. You can track them on Gears5.com/Status, but here's the latest on our service-based improvements.
Resolving Missing Escape Leaderboard Entries
We have identified an issue that causes negative value leaderboard Times for Escape to not report correctly to the leaderboards, impacting placement rewards. As mentioned above, we have suspended the release of new Hives until this issue is resolved.
Work is currently underway to fix this bug following the completion of our investigation into the issue.
Campaign Collectibles / Progression / Achievements
Some players have progression missing for Collectibles and Campaign Progress, which can also impact related achievements.
We are restoring missing progress for impacted users through a server-side rollout. The scale of the data has caused a delay in our ability to achieve this by the end of this week (September 20th), but we are targeting roll out as soon as possible by this week, targeting no later than September 27th.
We have a further update on the way to unblock users in this state. Stay tuned for more information at @CoalitionGears on Twitter or Gears5.com/Status
Select Regions Having Difficulties Finding Matches
Certain regions such as, but not limited to, Brazil, South Africa, and Australia are reporting difficulty finding matches despite healthy population counts.
Our team currently has a lead on the cause and is working to investigate further. Thank you for your patience. Stay tuned for more information at @CoalitionGears on Twitter or Gears5.com/Status
XP Won't Progress
As of this afternoon, we finished rolling out an update for impacted players to remove XP Debt and restore any lost XP progress due to the debt. More information can be found on Gears5.com/Status
Horde Progression Catch-Up
Missing Horde Progression for Sunday, September 8 has now been restored to players.
Our next major Title Update is nearing the end of development, with a goal to release in early October. This Update will address many of the reported community bugs and issues, and as soon as it's locked and loaded, we'll let you know what to expect.
We also have been gathering your feedback from all corners of the web to help guide the development of the game, from gameplay to Tour of Duty. We know you have questions you want to be answered, and in a future What's Up, we'll get you those answers.
For now, we wanted to leave you with a post from our previous What's Up on expectations around gameplay feedback:
We've seen many a passionate post on gameplay feedback on a variety of topics over the past week and we wanted to set some expectations.
With a game launch, it's important to let the game settle in to its natural flow as mechanics and balance are put to the test. In addition, we need to allow time for us to gather enough data to provide a broader picture of gameplay, which when combined with feedback, provides us with true intel on how the game is playing.
We're gathering your feedback to pass to the team to track during this time, so please do keep it coming – we just want to set expectations that any gameplay tuning is unlikely within the next few weeks.
We hope you're having a blast out there while we work on continuing to improve the game and address your feedback. We have plenty more to share in the coming weeks, so stay tuned.
Until then,
TC, out.